HCP Newsletter: Road to 1,000 - July 2020 🚀
The Road to 1,000 newsletter is Harlem Capital's monthly recap of updates on our portfolio companies, industry news, content, and events we suggest to check out and more!
Monthly Update
We are now halfway through summer (we know, we don't know how this is possible either). Hopefully everyone has had some time to soak up the sun. Here at Harlem Capital, it's safe to say we are the busiest we have ever been. As we reflect on 2H20, we are proud to say that we have already accomplished many of our full year 2020 goals, including surpassing 2.5k newsletter subscribers🎉. Thank you to all the folks who have subscribed to this newsletter - we promise to continue providing valuable updates and resources as well as humor to brighten your day!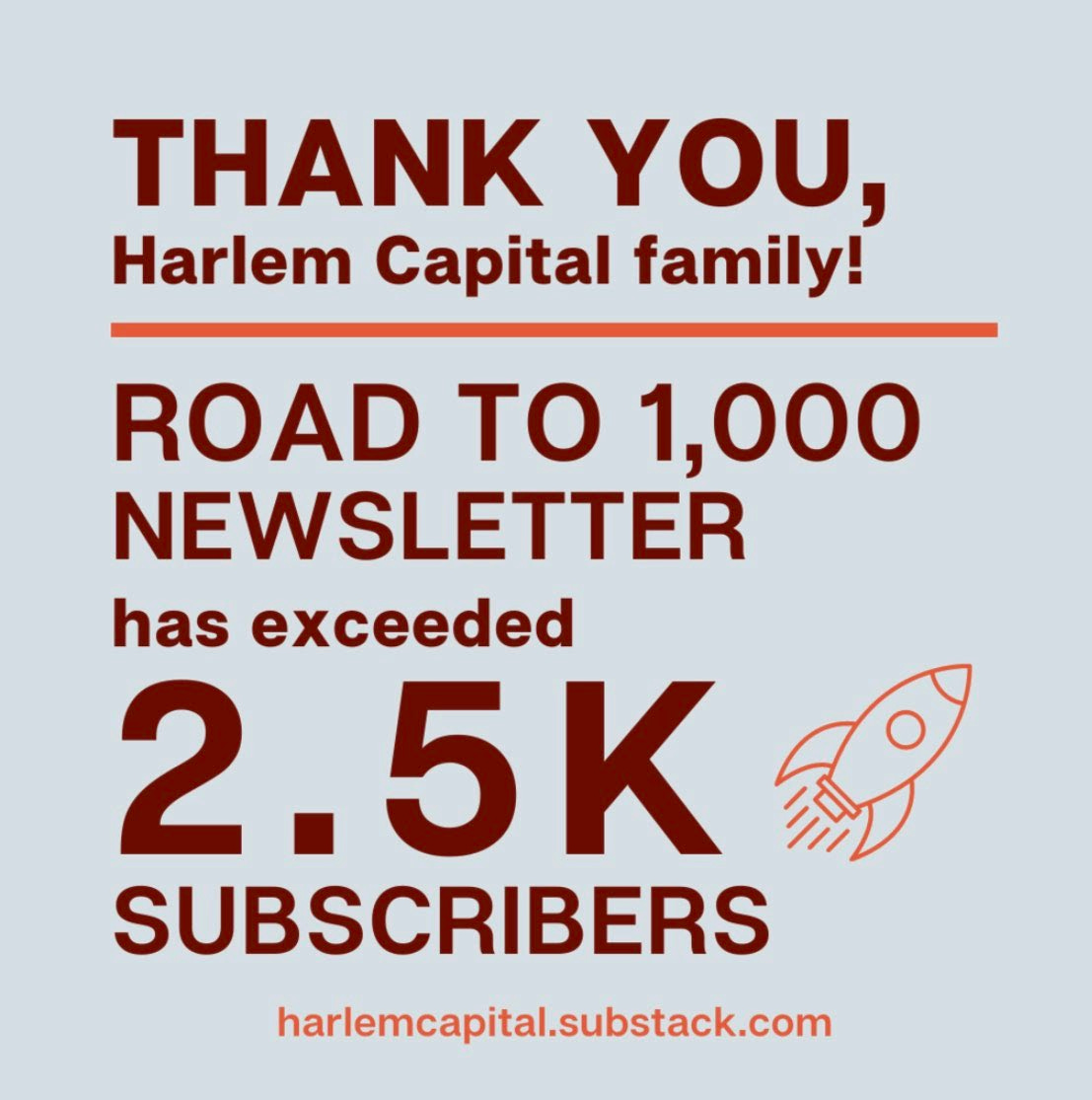 Harlem Capital Related 🚀
DID YOU SAY HARLEM CAPITAL PODCAST?! YOU HEARD RIGHT 😎 Introducing Harlem Capital's More Equity Podcast, which takes you inside the world of Harlem Capital. On each podcast, we discuss the startup and venture capital landscape with founders, investors and experts. In our first episode, we highlight Julia Collins of Planet FWD, the first Black woman with unicorn status who has raised over $450mm in VC funding. This is the first of six episodes in our Female Founders Series. Be sure to stay up to date - you won't want to miss these.
MORE CONTENT❓❗ THAT'S RIGHT 😎 We launched our YouTube channel this month. There are great videos up on the channel already and one talks about Harlem Capital's origin story. Go check it out and let us know what other topics we should cover!
PARTNERSHIP ALERT 🔊❗❗ We are thrilled to announce our partnership with the Diversity Marketing Consortium, which is providing $1.5mm in pro bono services to diverse-led startups in the entrepreneurial ecosystem. Thanks to SourceCode Communications, Cheer Partners, Social Studies, and Superbolt for making this possible.
Dear Founders - What's your go-to-market? 💬 As a founder launching your startup, you'll face the challenge of how to market your product or service. Harlem Capital wanted to provide internal and external marketing strategies for early-stage founders to navigate this challenge. We break down the marketing process into three high-level steps: 1. Know Your "Why", 2. Align on a Marketing Strategy, 3. Develop a Tactical Plan and Execute. Read the post here. For some more marketing inspiration, check out how Rihanna hooks you in her Fenty Skin promo tweet.
ON THE (VIRTUAL) ROAD🚗🚨 The month of July was busy for HCP's Managing Partners, Henri Pierre-Jacques and Jarrid Tingle, as they continued on the virtual road. Huge congrats to Jarrid on his first live interview with Yahoo Finance, where he talked about the importance of posting jobs publicly and other ways for employers to attract Black talent. Also catch Jarrid on the first episode of the newly launched HBCUvc podcast, Divergent Unicorns and read about his interview with Jess Li on how investors can create a more diverse and equitable future.
For more great advice, watch Henri and Techstars' David Cohen discuss efforts in boosting investment for Black Entrepreneurs, the impact of COVID-19 on raising capital for women and minorities, and ways to close these capital gaps here 📈
HOT OFF THE PRESS 📃🔥 Harlem Capital was named on Forbes' inaugural Blacklist100. HCP was recognized as a thought leader creating positive change and taking teams and organizations through transformation.
Top Diversity & Tech News 👀
Now👏this👏is👏what👏we're👏talking👏about👏!! This past month we saw new diversity-focused venture firms emerge as well as existing ones raising new funds. Jet Constellations, a Milwaukee-based software firm, announced the launch of a $50 million fund to invest in tech companies founded by Black founders and other underrepresented entrepreneurs, Concrete Rose Capital announced the launch of a $15 million fund, and Rethink Impact closed its second fund with $182 million. Get our diverse founders funded🗣📢
***Sound the Alarm:Black Excellence Alert***🚨🚨🚨 We know you come here to keep up with the Black excellence going on around us so let's shout out some more winners this month. In case you missed it, The Plug pulled together a database to track the progress of Black women-led companies and named 25 Black women executives with successful exits and 25 who may be next! Check out the full findings here.
Anotha one 🔑 - Larry Fitzgerald, Jr., the 11-time Pro Bowl wide receiver for the NFL's Arizona Cardinals, was appointed to DICK'S Sporting Goods' Board of Directors. Anotha one x2 🔑 - Bozoma Saint John was appointed as Chief Marketing Officer at Netflix. Congrats to these two for the big steps forward 🎉
The First Black-Owned Stock Exchange Is Opening Soon ✊✊✊The Dream Exchange founded by Joe Cecala in partnership with Cadiz Capital, a black and minority-owned private equity firm, led by William H. Ellison, created the platform to provide a space to match small and emerging businesses at an early stage with investors to generate more wealth creation for underserved communities. This is the news we came here for 💲👏
The Queen has launched a podcast 👑💥 Michelle Obama announced her new project: The #MichelleObamaPodcast. Launched on July 29th, the first season will center around conversation with loved ones discussing what makes us who we are and the challenges associated with that.
Helpful Resources 💯 & Other Suggested Content 💡
Are you a Black founder in need of capital? Check out the The Essential Funding Guide for Entrepreneurs of Color. This guide outlines investment firms and some grantmaking institutions that are walking the walk, not just talking the talk, when it comes to investing in Black founders. Guess who is featured? HARLEM CAPITAL 🚀
For another helpful resource to find grants for your startup, check out Founder Grants. Create a FREE (❗❗) account to be notified of new grants that fit your criteria 💸
New Mentorship Program Alert 💥💥💥 First Round has taken a huge step and opened up their Fast Track Mentorship Program to Black and Latinx founders and operators outside of the First Round portfolio. Fast Track is a 90-day mentorship experience pairing hundreds of tech leaders with founders and startup operators. From 9/8 to 11/20, mentees will meet bi-weekly with their mentors to discuss their professional goals, challenges of startup life, how to cultivate their leadership skills, and how to grow their companies. Apply here by 8/1.
Calling all underestimated undergrads, MBAs, and PhDs📢📢📢 Contrary Capital launched a program for you to take a year off and get $100K to launch a startup! Learn more and apply here by 8/21.
Breaking into VC is not easy, but we're here to make it a bit easier. Check out this resource guide on breaking into the industry - it outlines cold emailing, VC interview questions, where to find open job postings and more. Save yourself the time and find all the information you need in one location 🕑
You know we love to provide content to push our subscribers forward 📈, so here is a list of resources that may come in handy one day: Envision Accelerator's Resource Library, TechCrunch's founder-friendly directory of first check and lead VCs, and All Raise's powerful network of female founders, funders, and startup operators (apply here).
Looking to decompress? 💆For some leisurely reading that still keeps you informed, take a read through NYT's article, How Netflix Beat Hollywood to a Generation of Black Content, and Vogue's post, Why VCs are backing gender-neutral fashion 💕.
Mark Your Calendars - Future Events! 📆
Interested in working at one of the startups in our portfolio?💻 Click here to see all the open positions!